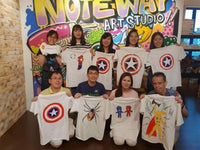 "With great power comes great responsibility", or so a certain Uncle Ben once said. With the release of 'Avengers: Endgame' looming just around the corner and everyone scouring the internet for reviews on 'Captain Marvel' and 'Shazam!', you might just be looking for a way to show your support for your favourite hero, or to simply pay homage to your favourite Avenger.
1. SPIDER-MAN
2. DEADPOOL
A hero collection is not a collection without your friendly neighbourhood superhero. With the advent of the Spiderverse and its hundreds of possibilities, which Spidey suits your style?
3. IRONMAN
There's nothing more eye-catching than a tote bag with a hand-painted art piece of the 'Merc with a Mouth', the 'Regenerating Degenerate' (okay we'll just call him Deadpool).
4. BLACK WIDOW
Always a favourite to paint, Tony Stark's myriad of suits promises endless blasts of creativity, and is stunning enough with just the simple colours of red and yellow.

5. HAWKEYE
No superhero tag team is complete without everyone's favourite (s)he-ro, Black Widow. Stealth and skill personified, a hand-painted Black Widow t-shirt print is sure to jazz up your wardrobe.
6. CAPTAIN AMERICA
The. Best. Avenger. 'Nuff said.
7. GROOT
Celebrate (or cry over) the latest Avengers masterpiece, 'Avengers: Endgame' by donning a shirt with the world's first avenger, Captain America.
I am Groot. This is Groot. It is a Groot decision to paint Groot.
8. BLACK PANTHER
9. THOR
You decide what kind of king you are going to be. And in that same vein, you decide what kind of shirt you are going to paint. Whatever it is, make Wakanda proud.
10. CAPTAIN MARVEL
Something Thor would say if you painted him: "This shirt — I like it. ANOTHER!" *throws paintbrush*
11. THE JOKER
Captain Marvel ushers in a new era of badass she-roes. Don't miss this opportunity to lace up your boots and show 'em who run the world (GIRLS).
12. DAREDEVIL
You can't go wrong with one of the greatest villains ever written. Now. Let's put a smile on that face!
You're not really going to refuse Matt Murdoch, are you? You probably would not even dare. Here's him with his pal, Captain America.
13. FLASH
Channel your inner Barry Allen with your very own version of The Flash. Be sure to watch those electrifying bolts of lighting!