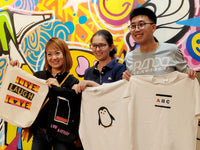 Ever wanted to create your very own art piece but felt too daunted from having to paint it by hand, by yourself? You think, "If I couldn't even pass my primary school art lessons, how do I even paint a design by myself?" Well, you are not forgotten! 
Recently at Streaks 'n' Strokes, we launched Sticker Stencils to cater to the ones who can't draw, and for those who choose not to draw! Sticker Stencils will allow you to create professional-looking results with minimal stress and effort.
Here's how it works!
For simple designs, simply peel off the negative space (the space that you do not want painted) and stick it directly onto your surface of choice. Once you've positioned and pasted all the parts on properly, feel free to paint carelessly. Mixing and blending your colours is optional, but highly encouraged as you can create very pretty gradients.
Paste the parts that should not be painted. Use a tweezer to remove small parts of the picture for better precision.
Feel free to go wild with colour experimentation!
Tip: Paint inwards rather than outwards, paint that is too diluted or thick may smudge through the borders of the stencil artwork.
Dry the artwork completely before peeling the sticker stencil off.
Example of Simple Designs
For advanced designs, you'd have to peel off the positive space (the area you want painted) with a pair of tweezers first and dispose of them. Once you're done, you can peel off the negative space as a single piece of sticker.
Examples of Advanced Sticker Stencil Designs
For animals or designs with parts of different colours, you can paste the full sticker and peel off part by part the parts that you want painted. It is recommended to dry the painted parts before moving on to the next part, especially if they overlap each other. 
Peeled off the beak and feet first as they are the same colour - Orange.
Painting the body of the Penguin black.
After painting all the parts and drying the artwork, it's time to peel off all the sticker parts.
Completed Penguin design.
Limited designs available, depending on stock availability so do check with us or come down personally to surprise yourself with our selection.
If you would like to customise your sticker stencil, feel free to contact us with a high resolution image (preferrably in .ai). Customised designs starts from just $3.
Here are some sticker stencils that we have done for companies. 
EM Services Team 2 Team Bonding Design
Deloitte Logo Team Bonding