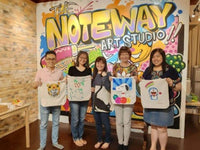 15 Cartoon Painting Ideas Everyone Loves
From Cartoon Network to Nickelodeon, Disney to Pixar, Dreamworks to Studio Ghibili — no matter our age, the wonderful world of cartoons and animation has never failed to inspire and entertain us. We picked some of our favourite cartoon characters some of our customers have painted on their t-shirts and tote bags. We hope they give you inspiration, and hopefully these convince you to unleash your inner child too the next time you decide to paint your t-shirt or tote bag!
1. Studio Ghibili Magic
From My Neighbour Totoro (as pictured above) to Spirited Away, Princess Mononoke to Howl's Moving Castle, Kiki's Delivery Service to Ponyo, who can truly say that Studio Ghibili has not touched our hearts in some way? Show some love for these beautiful Japanese animation films by having your favourite character on your tote bag!
2. Crazy Crossovers
 Whomever said you can't have the best of both worlds is wrong. Put a creative, personal spin on your designs by combining two or more of your favourite fandoms!
3. Dinosaurs & Other Cute Things
Sometimes a cartoon is not what someone else has drawn and animated. Sometimes it's simply something you create yourself. Check out this adorable cartoon of a little 'un in a big dinosaur costume!
4. All Things Disney
Ohana means family. And in this artsy family, one thing's for sure. We love all things Disney. We truly do. And if you're like us, you wouldn't be able to stop yourself from expressing that love on your totes with your favourite Disney characters!
5. Disney's Tsum-Tsum
Yes, we meant it when we said we loved Disney. And anyway, who said mobile phone games cannot be considered as cartoon art jamming ideas? Check out this lovely tote created based on tsum favourites from the Hundred Acre Wood!
6. Love Is (in the Balloon) In The Air
Running out of date ideas? Fret not! Grab your partner and head down to our studio and get creative painting something with and for each other. Definitely a wonderful, personalised gift to your special someone!
7. We Bear Bears
The world has been captivated by this new and emerging cartoon centered around the lives of three adorable bears. We've also discovered they make perfect companions on our tote bags!
8. Sesame Street 1.0, The Usual
Relive your childhood with your favourite Sesame Street characters. Everyone's must-have is Elmo of course!
9. Sesame Street 2.0, With Twist
Of course, everyone's seen Uniqlo's special take on our favourite Sesame Street characters — reimagined by American graffiti artist and designer KAWS, these designs feature our characters with crosses over their eyes, and what can we say? They make stunning designs on bags too!
10. Pokemon 1.0, With Love
If you and your partner have a mutual love for Pokemon, we realise that nothing quite says "I love you" like a love-themed Pokemon design does. Another treat for your loved one!
11. Pokemon 2.0, With Laughs
Since Pokemon designs are so popular amongst our guests, we decided to drop in an idea for those of you who aren't so much into Pokemon romance. Try it with laughs! This one will surely brighten up your day.
12. Doraemon
Another childhood favourite, Doraemon always makes a lovely, happy companion to keep on your tote bags!
13. Ugly Dolls
Contrary to what the name suggests, these UglyDolls aren't ugly at all. You'll find yourself falling more in love with these little brats as you paint them!
14. Hello Kitty
Sanrio's favorite cat has been around since what feels like forever, but her charm certainly has not faded. Here are some Hello Kitty tote bags to draw inspiration from.
15. Gudetama
And last but certainly not least, we present you everyone's favourite lazy egg. A way to subtly announce your Monday mood to your friends at school or colleagues at your workplace? Yes. We certainly do think so, and we definitely approve.
More Art Jamming Ideas for Cartoon Lovers